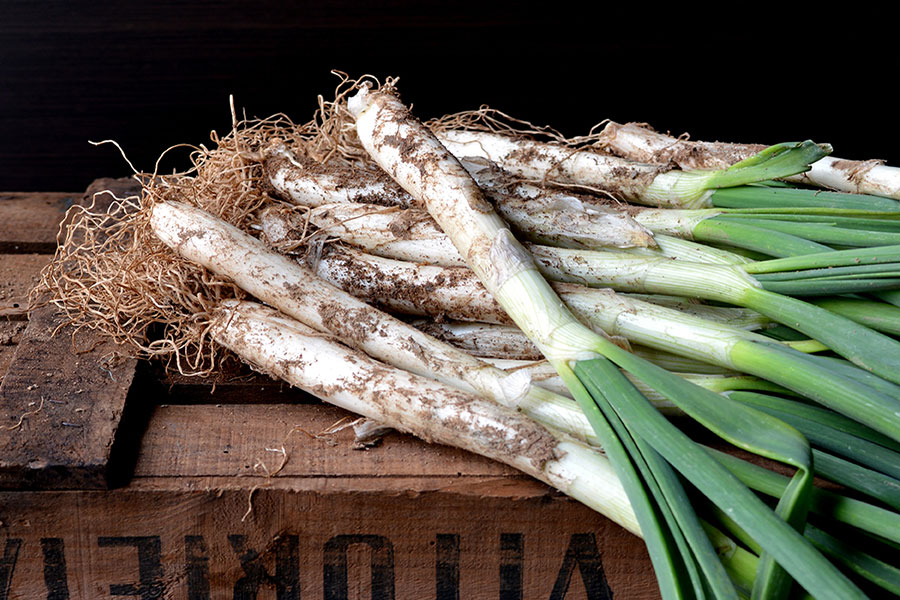 The history of calçotada
Calçotada is a typical dish and food event of the western region of Catalonia (originally from Valls, in the Alt Camp region). In recent decades, it has spread and can be tasted in almost any part of the region during the end of winter and early spring.
The Calçots, a variety of onions especially cultivated for this purpose, are roasted directly on the flames of vine shoots and eaten by hand, seasoned with a special sauce, the Salvitxada, similar to the Romesco. After cooking the Calçots, logs are added to the fire to make good embers that will be used to roast meats or sausages for the second dish. It is also customary to roast potatoes and artichokes in the coals, to accompany the meat.
What is the origin of Calçot?
There are several versions about the authentic origin of Calçot, but the best known is that attributed to the Xat de Benaiges, a peasant who lived in the town of Valls, in the province of Tarragona, at the end of the 19th century. It is said that this peasant put a couple of onion shoots on the fire, and immediately, he realized the delicious taste of this dish, which at the beginning of the 20th century, became a common food in all the houses of the region.
Did the Romans also eat Calçots?
Recently a painting from Roman times (3rd century) has been found, where a man appears tasting a so called porrus capitatus or, in fact the same as today´s Calçot. The Catalan origin of this typical dish is now questioning the discovery of the Xat de Benaiges, to whom the popular tradition gave him for 200 years the paternity of Calçot. The surprising story begins in the year 2000 very far from Catalonia, in Hungary, in the city of Brigetio: A painting was found in which a man, probably a slave in the time of the Romans, holding a tray with one hand and with the other, apparently eating something. After restoring and studying the painting, archaeologist László Borhy concluded that this meal was a Calçot: the gesture is very revealing and in Latin literature there are already references to what the Romans called porrus capitatus.
Nutritional properties
In addition to its rich flavor, this delicacy has many nutritional properties. In general, it should be noted that the onion is a plant with high content of vitamins and minerals.
It is attributed properties:
Toning
Diuretics
Digestive
considered an aphrodisiacs
Thus, it has been studied that the Calçots are good for preventing constipation, for the coagulation of blood and also provide essential elements such as:
Potassium
Iron
Zinc
Phosphorus
Folic acid
We will be delighted to have you visiting us. Mas Boronat awaits you.